This trophy is awarded annually at Brands Hatch; it normally runs from July to July. Only riders will be eligible to vote and it will only be awarded to a rider.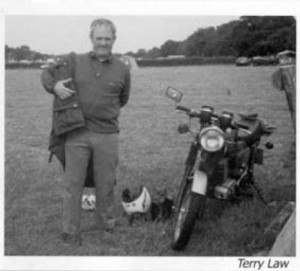 The basis upon which the riders will cast their vote will be entirely personal but it is hoped that whoever receives this trophy will truly be someone who embodies the spirit of MZ racing in all its facets. If the championship leader is the best man for it then he should have it !
The idea for the trophy was thought up by one of Terry's many friends. Terry had many other interests but his great love was motorcycles. He didn't race himself but was associated nearly all his life with the sport. He went to the continent, the Isle of Man and nearly all the English circuits to spectate. In 2008 he rode his bike to the Isle of Man for the racing, all the way from Kent, no mean feat for a man of 72.
The reason we chose the MZ Club was mainly because he always had an MZ, he had at least 5, he loved them. He even went to the MZ factory in East Germany to study the machine and became friends with Walter Kayden. In those days a visa was necessary as it was still behind the 'Iron Curtain'.
The Terry Law Spirit of MZ Trophy has been made by another of his friends, Paul Day. Paul designed and sculptured the Meeting Place statue at St Pancras station in London. He is also responsible for the Battle of Britain Monument on Victoria Embankment in London and two bronze relief friezes at the statue of the Queen Mother on the Mall in London. The trophy is not like other trophies, it is truly unique and very valuable.
Anne Handley, close friend of Terry Law
More information on Paul Day and examples of his work can be found on www.pauldaysculpture.com
Recipients of the Trophy
| | |
| --- | --- |
| 2016 | Andrew Wales |
| 2015 | Phoebe Stockford |
| 2014 | Peter Mannering |
| 2013 | Chris Rogers |
| 2012 | Des Davies |
| 2011 | Chris Palmer |
| 2010 | Dave Higgins |
| 2009 | Gavin Sherwood |