The British MZ Racing Club
In 1986 The FLRC (Formula Lightweight Racing Club) was formed by a group of bikers; John Burgess, Ken Dawe and Ian Smith, who believed that the humble 250cc road bike that MZ produced could form the basis of a cheap and cheerful road racing series. Just 10 riders lined up at a meeting with the Vincent owners club on a wet day back on the 14th of June 1987 at Cadwell Park (on the short circuit as they didn't trust Clubmen with the cherished long circuit in those days)  to take part in the first MZ race. Sponsorship to the tune of £500 was availiable from Bike magazine and Avon tyres.
The first series ran over four events and the Club raced with Derby Pheonix, BRC and Pegasus at circuits such as West Rainham and Lydden Hill. From those humble beginnings, MZ racing quickly caught the public imagination. Within a year there were forty bikes on the grid at Snetterton with ten reserves waiting to join the action. Soon the FLRC was one of the biggest single make racing clubs in the UK. Subsequently the bikes have been developed by their riders to go faster, handle better and regularly show up many expensive racing bikes at circuits around the country.
The MZ racing class pioneered the concept of giving people an opportunity to try racing without going to great expense. To date, hundreds of people have tried MZ racing – young, old, male, and female, from complete novices to those with over twenty years racing experience. In 1995 the club changed its name to the BMZRC (British MZ Racing Club).
The Club offers new riders an opportunity to learn the ropes of racing from experienced racers both on and off the track. Experienced riders will always have something to compete for with a range of trophies as well as lap records and personal bests to beat. The MZ Paddock is close knit with the emphasis on getting all racers out on track; you will often see racers lending each other spares, offering advice and support and even working on each others bikes. However, once the race starts the competitive spirit returns with full force!
The mention of committees and the like are liable to cause a sudden loss of the will to live so the British MZ racing club has a simple "constitution" to enable it to function . The most important role of the Club is to set and monitor the rules and regulations of MZ racing. We liaise with the British Motor Cycle Racing Club (aka Bemsee) to promote the series through introduction packs, advertising, show stands etc. We organise a variety of competitions and encourage sponsorship to help fund the Club and provide prize money and trophies. The Club also provides a regular Club Bulletin with race results, race reports, bikes & spares for sale, plus any other news and gossip. The Club is run by racers for racers and is committed to helping and encouraging newcomers to road racing.
The British MZ Racing Club's Constitution.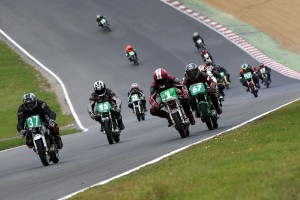 The Bikes
The MZ is an East German 2-stroke 250cc utilitarian bike. They were produced in huge numbers from the 1970's (TS models) for over 30 years, latterly in Turkey with the ETZ models. They were used by the East German army and were renowned for their basic equipment but robust build.
Frames, petrol tank, engine cases, carburettor, fork externals and swing arm must be original. There are rules around exhaust dimensions, fairings aren't allowed but pretty much everything else is fair game.
Fully race prepared bikes can be bought for approx £1500+. Engine rebuilds are inexpensive, crash damage is normally cheap and easy to fix. Tyres won't cost a fortune despite running slicks.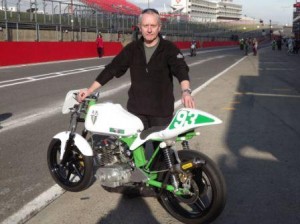 The MZ Experience
For several years the Club has offered prospective racers the opportunity to borrow a race prepared MZ 250cc bike. This is known as the MZ Experience Scheme , the cost can vary from approx £480 to £650 depending on your level of experience. The cost of the scheme is predominantly made up of test day and race entry fees , ACU Licence costs with a small amount going to the MZ Club to cover oil and spares etc.  It is not run as a money maker for the club, it is genuinely a means by which the Club hopes to attract new racers. There are two bikes available at every race meeting which are supported by volunteers within the Club. See seperate MZ Experience pages for more details.
The Members
The Club currently has approx. 65 members, 45 of which are current racers the rest being made up of former racers, family, friends and fans. Racers range in age from teenagers to  veterans in their early 70's.
The MZ Club is fortunate enough to be well supported by experienced and dedicated MZ Tuners. You will often find them on hand in the paddock and they are very much part of the club.
Our Sponsers
We are fortunate that Jo Baldry, former MZ racer  of Chilton Motors, is happy to sponsor our main MZ Championship, our regular £50  Prize Draw and continues to provide our Rider of the Meeting award.
Individual riders also have their own sponsors and from time to time these sponsors and other supports within the Club will provide additional funds for special occassions and one-off prizes. Sponsors can see their name appear in the Bemsee Programme at each meeting as well on their riders bikes.
We also have the backing of the British Motorcycle Racing Club (aka Bemsee) who support us in the running of our MZ Experience (try-before-you-buy) scheme.
The Racing
As well as the main Chilton Motors MZ Championship, there are a number of other trophies and cups to suit all ages and abilities. e.g. the Novice Championship, the Under 21's, over 40's, Women's and Over 50's. There are also non racing trophies to recognise the Riders Rider and the people who keep the Club going.
Grid sizes are generally in the region of 25-35 racers. Some racers will take part in every meeting in the season; others will just stick to their local circuit. The season includes nine weekend race meetings and generally runs from late March to October.
Former MZedders have gone on to do well in other race classes such as 400's and Triumphs, some have raced with MRO on 125cc's and others have taken part in the Manx TT. Former MZedder Luke Lawrence even went from MZs to compete on 250cc Grand Prix bikes in the Moto GP World Championship.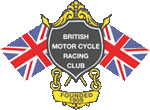 Where does the British Motorcycle Racing Club (Bemsee) fit in?
In the past MZ racers had to rely on a variety of clubs to organise race meetings that would include MZ races. This often meant joining several different racing clubs each year. The British MZ Racing Club has therefore joined forces with the British Motor Cycle Racing Club (aka. BMCRC or Bemsee) to become a club within a club.
Bemsee organise meetings at top circuits across the UK including: Brands Hatch, Silverstone, Cadwell Park, Oulton Park, Donnington and Snetterton. Bemsee has approx. 600 racing members with 200-280 attending each of the 10 meetings organised each season.
Bemsee provide the best support staff, marshalls, Doctors and medics you could wish for. There is a pool of approx. 200 volunteer marshals to call upon with 50-100 in attendance at each meeting depending on the circuit.
For many years Bemsee has run a Benevolent Fund,  a Registered Charity (no 213308). Its purpose is to look after the needs of its Members, often fallen riders but not always. More details, news and fundraising events can be found on the Bemsee website .

Where does the Auto-Cycle Union (ACU) fit in?
The ACU is the internationally recognised National Governing Body for motorcycle sport in the British Isles (less Northern Ireland). You need to have a racing licence issued by the ACU in order to compete with Bemsee and in the MZ class. Information on how to obtain a licence can be found on the ACU website or on the Getting Started section of this website.