What is the MZ experience?
The MZ Experience gives riders an opportunity to try motorcycle Road Racing with the British MZ Racing Club (BMZRC). Generally riders looking to take part on the MZ Experience are competent riders who have been on a number of track days or who have raced motorbikes elsewhere and are now looking for a new challenge. The MZ Experience is not intended to be a one-off or a "Gift Experience" but a way for riders to test the water before they buy their own MZ race bike. To participate in the MZ experience riders must have already obtained an ACU licence (see below).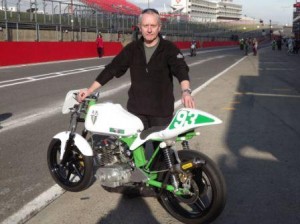 How much will it cost?
For 2018, the cost of borrowing the MZ bike is £550 for Brands Hatch GP and Silverstone and £500 for all other tracks. £50 is payable as a deposit to secure the booking and the balance for the loan of the bike must be paid no later than 8 weeks before the meeting. The fee covers:
The loan of one race prepared MZ 250cc motorbike
All fuel and oil for three days
The race entry fees for Saturday and Sunday
The test day fee on Friday
Your choice of either road or race gear shift
Track instruction from an experienced racer on the Friday test day.
Dedicated paddock support from experienced racers
Hire of transponder to record lap times
BMZRC membership until the end of season
BMCRC (Bemsee) membership for the weekend
The ACU licence
If you are new to road racing or returning after a long break you need to obtain an ACU licence.  This involves half a half day classroom based Competitor Training Course (CTC) and an on-track Basic Rider Assessment (BRA).  This is often included as part of a track day or race school.    You will also need to arrange an eye test with an optician and in some cases an appointment with your GP.
When does the MZ Experience take place?
2018 Bemsee Training and Race Dates as follows. MZs will do 8 of 10 Bemsee rounds.
*** Race School and Basic Rider Assessment – February 18th at Brands Hatch ***
| | | | |
| --- | --- | --- | --- |
| Date | Circuit | Bike 1 (#93) | Bike 2 (#94) |
| 10-11 Mar | Brands Hatch Indy | | |
| 7-8 Apr | Silverstone International | | |
| 28-29 Apr | Cadwell Park | | |
| 16-17 Jun | Donington Park National | | |
| 4-5 Aug | Cadwell Park | | |
| 25-26 Aug | Snetterton 200 | | |
| 15-16 Sep | Pembrey | | |
| 6-7 Oct | Brands Hatch Indy | | |
Who to talk to?
To discuss a potential booking please contact Chris Rogers (MZ Experience Coordinator) on 07977 218440 or via email at chris95mz@gmail.com. Chris can help to provide all the information you need, answer all your questions and arrange the payments.
Further information can be found in the  Frequently Asked Questions, Getting Started section and MZ Experience Checklist pages of this website.
What else do you need to know?
We have two bikes available and we can also offer the following deals for two riders wishing to race together:
'Borrow one, get second half price' – this applies to the borrowing cost only – race fees must be paid by both riders in full
Share one bike with each rider having half a test day each plus one race each on Saturday and one on Sunday.
Motorsport is dangerous and can involve injury or death. Despite BMCRC (Bemsee) and BMZRC taking all reasonable precautions, accidents can happen. By participating in the MZ Experience you acknowledge this and confirm that you are aware of the nature of the activity and participate at your own risk. You will be asked to sign a waiver to this effect on your Race Entry forms and another form before you will be allowed to ride the MZ Experience bike.
You will be allocated one race prepared MZ 250cc bike. We cannot guarantee the bike will be free of any technical issues but it will be fully supported throughout the weekend. In the vast majority of cases any issues are easily resolved resulting in any disruption being kept to a minimum.
You will receive instruction on how to handle the bike and it is important to be aware that you may need to adjust your normal riding style in order to get the maximum benefit out of the weekend.
The bikes are maintained and supported by experienced racers on a voluntary basis. They are not professional mechanics. Please let us know if you wish to bring your own mechanic to vet the bike beforehand.
There is a £250 damage waiver, which you will have to pay if you damage the bike.    We may also ask for payment of any small repairs necessary to keep running during the weekend.
Should you decide not to go ahead with the booking, the deposit will be non-refundable unless a replacement is found.