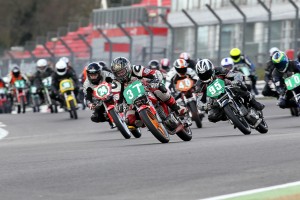 If you're into bikes then road racing is the ultimate biking experience – with no compromises. Racing gives you the chance to test your riding skills and racing tactics to the limit in a way that you can never do on the road or even at track days and race schools.
When it flows, when you and the bike blend the circuit into one smooth continuous line, you know why you are there! Racing a bike on the track is free from many of the normal hazards that you experience whilst riding a bike on the road: everyone is going in the same direction, so there is no on coming traffic; there are no lorries, tractors or cars of any kind; there are no speed limits, speed cameras or police (unless they are racing you). Kind people called marshals will warn you of any dangers ahead you can't see. When you come off marshals will come to your assistance and a fully trained Doctor and ambulance crew can reach you in moments. You can experiment with your bikes handling and set up, work on improving your bikes' performance, etc. Motorcycle racing will give you something to tell your grandchildren about and may introduce you to people you'll stay friends with for a long time to come.
Back to top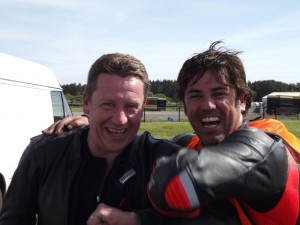 Motorcycle racing in general is a very expensive hobby but  you don't need to be rich to race an MZ.  Other classes may provide a cheap bike option, but the costs of rebuilding a big four stroke or Japanese multi-cylinder engine, not to mention keeping it in fuel, oil, tyres and spares soon add up.
If you are new to racing, then MZs are the best way to learn the ropes and understand what is involved. You will get to visit most of the major UK circuits where you can discover their layout and learn the racing lines. Completing MZ races will help you quickly lose you "novice" jacket and upgrade your licence. MZ racers have a broad range of abilities from the very good to the "just taking part", so you should always find someone at your level to race against. MZ racers are a friendly bunch who will help you when they can and this helps you to enjoy yourself. Whilst some MZ racers have gone on to race in other classes (including the Isle of Man TT and Internationally), others have been racing MZs for ten years or more. So the choice is yours – after discovering the joys of motorcycle racing on the cheap, feel free to re-mortgage your house and head around the world in search of Grand Prix SuperBike glory. We might be a stepping stone to other classes or a happy home for many seasons but we are always fast and fun.
Back to top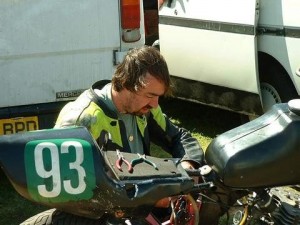 Build, buy or borrow a race bike?
There are two basic choices for your racing bike, either get a road bike and convert it into a racer or buy a second hand racing bike. The FOR SALE section of this website is a good source of second hand racing bikes. Remember the most important aspect of your bike must be that it conforms to the current rules. If you are unsure about what you can do, then ask first. Watching an MZ race can give you a good idea of what an MZ racer should look like, talk to people in the paddock and ask the tuners and the experienced guys for advice. Everyone has an opinion and much of the advice you get will be contradictory. Choosing the solutions that suit you is half the fun.
A first word of advice: if the bike isn't right, nothing's right. Get it sorted before you get to the circuit, taking a bike that will let you down is an expensive way to spectate. An alternative to buying your own bike straight away is to book a place on the MZ Experience Scheme (try-before-you-buy). This gives you a chance to take part in a race meeting on one of the Club's bikes giving you a better idea of what to look for when you come to buy your own.
Back to top
You need an ACU Road Race licence to race.  The ACU is the governing body of the sport and the Rules and Regulations can be found in the Road Racing Section of the ACU Handbook.  This rules change from year to year; for 2014 onwards you need to complete an ACU Basic Rider Assessment (on -track) as well as a Competitor Training Course (in a classroom). Both can normally be completed on the same day. In some cases you may need your GP to sign your licence application and in all cases you will need to have an eye test. You will also need to become a member of Bemsee and in due course the MZ Racing Club.
Please see the separate Getting Started section for more details.
If you wish to upgrade your licence to Clubman, National or International level then you need to refer to the ACU website (under Road Race Licence notes) as the rules can change each year.
Back to top
If there is one area you should not cut corners, it is in your protective clothing. The ACU set a basic standard of protection (which must be in good condition); a crash-helmet with the correct version ACU Gold label sticker on it , full one-piece leathers, leather gloves and boots and an identification (dog) tag.
If there is one thing that you can guarantee in your racing career is that you will crash at least once . Whilst we certainly would not recommend a second hand crash helmet, second hand leathers can save you money. Body armour is not an ACU requirement, but we certainly recommended it. Spare riding kit is always useful as are waterproofs. Novice riders will need to wear a Novice Jacket.
There are full details of the kit required and the minimum standards in the Road Racing Section of the ACU Handbook which is available on-line. (direct link)
Your protective gear and your bike are checked at every race meeting
Back to top
What other kit will I need?

Unless you are on the MZ Experience (try-before-you-buy) you will need to arm yourself with all the extras you need to support you and your bike throughout the race meeting. The list can be endless so arm yourself with the obvious at the start e.g. kettle, tool kit, jerry cans with fuel, 2 stroke oil, mixing jug, petrol tank dip stick, tyre warmers, paddock stands, work lights and generator with leads. You'll build up your spares and supplies as you go. Don't be afraid to ask your fellow racers if you run into difficulty. You'll also need a 2kg fire extinguisher or risk a fine.
Unless you want the hassle and expense of eating at the circuit or driving off for a takeaway, then it's advisable to bring all your own food and drink.
Back to top
You will need to have a fully charged and working transponder fitted to your bike in order to record your lap times. The type used at Bemsee meetings is a  TranX 260. These can be hired from Bemsee at each meeting , however there is only a limited supply of these so send your entry in early or look into buying your own as soon as you can afford to.
Timing Solutions Ltd (TSL) provide the timing services at all Bemsee meetings and you can also buy a transponder through them. You can also buy them second hand.
Back to top
Can I choose my own race number?
With effect from Nov 2015, MZ Race Numbers belong to the BMZRC rather than to the bike/rider. Riders can retain their chosen race number providing they have raced with the BMZRC in the past two seasons or they are currently a paid up member of the BMZRC.
Allocated and spare race numbers are listed here.
All new riders need to request a number from Lee Hardy before their first meeting (details on Contacts).  Any numbers which do not meet the above criteria will be "freed up" before the start of each season.
Race entries can be made online via the website.  Payment will not be taken until approx 1-2 weeks before the meeting. The closing date for entries is generally 2 weeks prior to the meeting.
You will receive a pack about a week before the meeting which will include 3 entry tickets (one must be retained by the rider) plus timetables, paddock maps and final instructions.
The Friday Test Day is optional although strongly advised for riders entering their first meeting. There is the option for a full or half day and Bemsee ACU qualified Instructors can been booked in advance for extra tuition.
Back to top
It is always preferable to stay on circuit. MZ racers will sleep in cars, tents, backs of vans and caravans and occasionally motorhomes. There is an electric hook up at Brands but for all other circuits you will need a generator.  Don't rely on being able to leave the circuit during the weekend as, once you've pitched up,  you may get blocked in or need to use your vehicle to tie your awning down.   Ideally, you should aim to be at the circuit the night before because you'll be up early the next day.
Back to top
When and where can I practise?
MZ Race bikes are not road legal. Track Days (some for ACU Licence holders only) are a good opportunity for you to experiment with "set up" and learn the circuits at your own pace.  Most race weekends will have a Test (Practice) Day on the Friday which you can enter for a whole or half day.  Bemsee ACU qualified instructors can also be booked if you need some pointers.
You've arrived at the circuit in good time and you've pitched near other MZedders – a great start! Check the Bemsee Final Instructions to see when you are allowed to start your generator and bike engine. This may mean that you will have to push your bike to Technical Inspection.  The Final Instructions will also tell you the order, times and location of Noise Testing , Technical Inspection (aka Scruitineering) and Signing-On. It's a good idea to tag along with an existing racer when they go and to check with them that you have everything you need. e.g. Yellow Tech Card, gloves and fully charged transponder. Any MZedder will be happy to help or point you in the direction of someone who can, so just ask.
If you are taking part in the Friday Test Day then you only need to be Noise Tested before you are allowed out on track. You can pass through Technical Inspection later in the day and also first thing on race day but it is always advisable to get it out of the way on Friday.
After you have passed through Technical Inspection you can go to Race Office to Sign-On, remember to take your Yellow Tech Card and your ACU Licence.
The Friday Test Day is an opportunity to check your bike is working and set up correctly as well as getting to know the circuit. The day will consist of a number of different sessions comprising of difference bikes/classes of similar engine size.   You can sign up to do all of the Test Day or just the afternoon (the afternoon will generally be alot busier than the morning). You have the option to request one of Bemsee's ACU Instructors at any meeting, they ask for a donation to Bemsee's Benevolent Fund. All riders taking part on the MZ Experience are required to do the Friday Test Day so that they can get used to the bike as well as the circuit.
A timetable will be sent to you along with your Entry Tickets but this can change before and throughout the meeting. You will be issued with a Timetable and a Race Programme when you sign on but it is important to listen to tannoy announcements.
Before and immediately after every session or race, you need to get into the routine of checking your bike over. Everything that can fall off probably will at some point!

Race Day begins with a Practice session consisting of MZs and other bikes. Each rider has to complete a minimum number of laps or they may not be allowed to race.  The MZ class has a Qualifying session which determines the grid positions.  The grid positions are displayed in the window of the Race Office and/or the TSL website.
Riders are called to the collecting area while the previous race is out on track. There will be two calls, you must set out on the first call.  If you have a problems in the paddock and think you may have missed both calls, just keep going! Let the marshals in the Collecting Area be the ones to tell you that you're too late. Sometimes there's a delay out on track and riders may get held in the Collecting Area so it's worth a shot.
You will lined up in grid positions in the Collecting Area and you will have one warm up lap. At the end of this, you need to return to your grid position on the start line. Remember this is a warm up lap, it is not part of the race.
How the race starts, what the flags mean, what to do it there's a problem etc will be covered during your training prior to obtaining your ACU Licence. These points are also covered in the Road Racing Section of the ACU Handbook .
One last thing…. a reminder that the vast majority of Bemsee staff and officials are volunteers. Please listen to them and follow their instructions at all times.
Where can I see my race results?
Timing Solutions Ltd (TSL) provide the timing services at all Bemsee meetings. Copies of the results can be picked up from the Race Office shortly after each race has finished. Bemsee also publish them on their website on the following Monday.
TSL have a Live Timings facility on their website allowing spectators both at home and at the meeting to follow the race live. Shortly after each race, they also publish a PDF file showing all of the results.
Feel free to speak to other MZ Riders on our Forum or Facebook page (MZ Racing Club) or come and meet us at one of our race meetings.